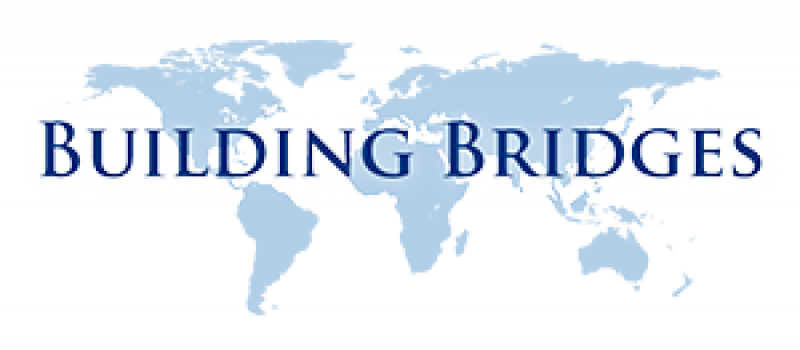 WORKING TOWARDS A FUTURE OF COLLABORATION AND PEACE.
Building Bridges was founded to re-establish the great relationships between the East and the West that rapidly deteriorated, after 9/11 and subsequent turbulent events in the Middle East. We are utilizing the existing infrastructures between American and International organizations, establishing new relationships between the United States and other countries, as well as creating opportunities locally for people living in the same region to celebrate each others culture.
Delegata sponsors multiple local events and groups whose goals and mission align with Building Bridges. Such groups include the Interfaith Service Bureau, Japanese American Citizens League, Habitat for Humanity, and more. Larger projects that Delegata is involved with include the Sacramento World Music and Dance Festival whose mission is to showcase the cultural diversity of the Sacramento Region through the presentation of an ethnic dance and music festival; Songs of Hope brings together musicians from Israel, Egypt, Palestine, Jordan, and the U.S. based on the premise that music can build bridges and create understanding between people in conflict; and Call for Unity, a concert event that brings diverse cultures and backgrounds together in one night of music for all to enjoy.
The Building Bridges Summit in 2009 is taking place in California's capitol city of Sacramento.  Seven esteemed leaders from four Egyptian Universities represent the delegation attending the Egypt Summit.  The delegation consists of professors, deans and heads of departments from Alexandria University, Beni Sweif University, Cairo University, and Zagazig University.  They will participate in progressive discussions with leaders from University of California, Davis and UC Davis School of Medicine on seven key areas: telemedicine, health informatics, continuing medical education, technology based learning, public health, distance education, and faculty development and technology (including faculty and student exchanges), in an effort to form an actionable plan for future collaborations.
2009 included many international Building Bridges activities in partnership with esteemed organizations such as:
California State Senate
World Affairs Council
University of the Pacific/McGeorge School of Law
University of California, Davis
California International Relations Foundation
His Excellency Minister Amin Abaza, Egyptian Minister of Agriculture and Land Reclamation visited with several leaders in Food Science and Technology to share advancements and discuss collaborative opportunities in horticulture, entomology, biotechnology, and more.
The Honorable Ambassador Hossam Zaki, Senior Political Advisor to the Minister of Foreign Affairs of Egypt engaged in conversations with Senator Darrell Steinberg as well as Dean Elizabeth Parker of McGeorge School of Law on several key topics including:
S. and Egypt relationships
Peace progress
Strategy in the Middle East
Business opportunities
In 2008, Kais Menoufy partnered with Dean Elizabeth Parker from the University Of Pacific McGeorge School Of Law to lead a second delegation to Egypt. The Building Bridges II trip to Egypt focused on building stronger relationships between the people of California and Egypt which will reinforce the structural components for peaceful collaboration.
In 2007, UC Davis Chancellor, Larry Vanderhoef and Delegata CEO, Kais Menoufy, led a delegation from UC Davis to Egypt to expand existing exchange programs and create new initiatives where none are currently in place. Since returning from Egypt, exchange programs have taken place between professors of Middle Eastern Universities and United States Universities, and training programs have been provided for Egyptian farm managers. Another delegation is traveling to Egypt in 2008 to continue the work of 2007's Building Bridges trip to Egypt. Learn more about the continued work from the 2007 Building Bridges trip here.
Building Bridges in 2006, Delegata was successful in creating a partnership with University of Pacific McGeorge School of Law and the American University in Cairo (AUC). This partnership promoted the unifying power of education. Students from the AUC attended UOP McGeorge School of Law serving as the first participants of an exchange program resulting from the Building Bridges partnership.