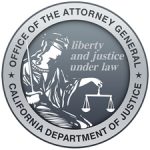 Office of the Attorney General | DOJ Case Studies
The Attorney General also assists district attorneys, local law enforcement, and federal and international criminal justice agencies in the administration of justice. To support California's law enforcement community, the Attorney General coordinates statewide narcotics enforcement efforts, participates in criminal investigations and provides forensic science services, identification and information services and telecommunication support.
In addition, the Attorney General establishes and operates projects and programs to protect Californians from fraudulent, unfair, and illegal activities that victimize consumers or threaten public safety. The Attorney General also enforces laws that safeguard the environment and natural resources.
Under the state Constitution, the Attorney General is elected to a four-year term in the same statewide election as the Governor, Lieutenant Governor, Controller, Secretary of State, Treasurer, Superintendent of Public Instruction and Insurance Commissioner. In 1990, voters imposed a two-term limit on these statewide offices.