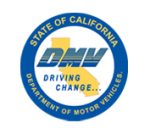 CA Dept. of Motor Vehicles (DMV) Case Studies
DMV registers vehicles in California and licenses their drivers. This amounts to about 33 million vehicles registered and approximately 23 million licensed drivers.
Other major DMV functions include: recording ownership (certificate of title) of the vehicles DMV registers; maintaining driving records (accidents and convictions) of licensed drivers; issuing identification cards for individuals; registering and recording ownership of vessels; licensing and regulating driving and traffic violator schools and their instructors; licensing and regulating vehicle manufacturers, transporters, dealers, distributors, vehicle salespeople, and dismantlers; administering the Financial Responsibility Law; investigating consumer complaints; maintaining records in accordance with the law; collecting approximately $6.5 billion in revenues annually.